HavenZone IT Solutions - Remote Backup Solution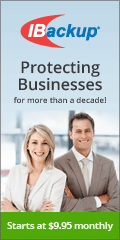 Eliminate the worry of data loss and protect your files...
IBackup's online backup services include applications for automatic scheduling of backups with Compression, Encryption, Incremental/Full backups, Versioning, synchronization, open file support for Outlook, MS SQL Server, MS Exchange Server, Oracle Server, MS SharePoint Server backups and more. 

IBackup guarantees superior performance*, often at 30% or more, compared to competition. .
With IBackup for Windows, you can backup/restore interactively or schedule regular online backups for Windows desktops, laptops and servers. It has a simple, user- friendly interface coupled with powerful scheduling and logging features.
Remote Backups from iBackUp
HavenZone offers a wide range of IT Solutions... Contact the HavenZone Sales Team to learn more...
Featured Services & Products